All Toastmasters meetings are comprised of speakers at different speaking levels with the common desire to improve as a speaker and communicator. This is a supportive, relaxed environment where you move at your own pace. Some new members speak at their second or third meeting – others wait for months. However, the sooner you begin, you sooner you will benefit.
A Toastmasters meeting is a learn-by-doing environment where participants hone their speaking and leadership skills in a supportive atmosphere. Members take on a variety of roles which range from giving a speech to evaluating others.  Our club currently averages 10 – 15 people per meeting. Meetings consist of two main segments – presentations and feedback.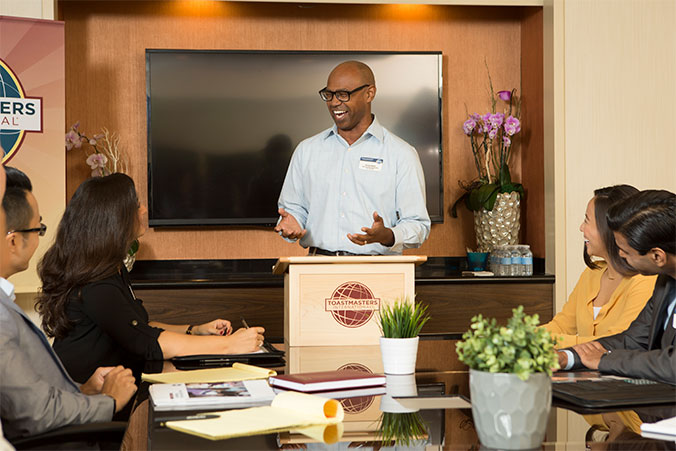 Meetings Balance Presenting with Feedback
Presentations
Meetings include several types of presentations:
Prepared 5 -7 minute speeches
3-4 minute tips and mini speeches
Speaking opportunities during the meeting's evaluation section
Impromptu speaking skills during Table Topics
To build a well rounded skill set, Toastmasters' materials suggest a range of speeches – for example – storytelling, vocal variety, gestures or effective use of visual aids. Topics are up to you – you write your own speeches.
Feedback
Every meeting includes evaluation and feedback:
All speakers are given constructive feedback
We evaluate the meeting itself
Even evaluators are evaluated
The feedback process is a key part of growing as a speaker and is fundamental to the program's success.
We practice striking the right tone in feedback to ensure it is helpful, positive and constructive – these skills are applicable to your business and personal lives as well.
Learn How to Run Effective Meetings
At Toastmasters we need to get a lot done during a short period of time and one of the skills we practice constantly is running effective meetings. This includes starting and ending on time, properly structuring the meeting, staying on topic, and making sure that everything on our agenda is covered in the allotted time. Members constantly mention that these skills make them significantly more effective during business presentations, client meetings, staff meetings, seminars and just about any other type of meeting you can mention.
The Added Bonus
One of the unexpected benefits of Toastmasters is that you constantly hear speeches by bright people talking about a range of topics that make you think. Some liken it to an evening with several mini-TED talks. Topics are at the discretion of the speaker and range from funny to thought provoking.
Post-Covid our meetings are now 100% in-person based on our experience that people progress far more quickly and develop into more accomplished speakers when they stand in front of a live audience.
Members run the meeting with people taking on different roles from meeting to meeting. This can include running a segment of the meeting, helping with evaluations, or being in charge of the entire evening. This provides great skill building experience for work or outside activities.
At Toastmasters you only speak when you are ready and comfortable doing so. You will never pressured to speak or take a role – people move at their own pace and comfort level. People generally start with something very small and move forward as they build confidence.